Admittedly, today there are more spicy Bloody Mary recipes and easy Bloody Mary recipes and best Bloody Mary recipes and Bloody Mary ingredients than a normal tippler can keep up with.  For us here at The Crafty Cask, we're often purists and know how to make a Bloody Mary we love when that classic is in order. I bet you have your favorite go-to as well. For Suzanne – it's lots of horseradish. Like almost drinking cocktail sauce. With spicy peppers and bacon, if you please. 
Sometimes though, we're looking for something with a unique spin on a classic. Especially when it comes to starting a New Year off right. The New Year's Day Bloody Mary is special. Not only is it great for clearing out those hangover cobwebs from the night before (hello lycopene and hair of the dog!) but there's an old saying that indicates the way you spend the first day of the year is indicative of how your whole year will be. Personally? We want a delicious, unique and fun 2022! So we've rounded up our best Bloody Mary recipes to ensure just that…
The Bloody Mary is so much more than just a tomato juice and vodka hangover cure. It is undergoing a renaissance, as is craft vodka (read all about why we think you'll be sipping vodka straight soon here), which makes them the perfect pair just waiting to be enjoyed. There are also great variations using other spirits, like whiskey and tequila. So below we'll share our favorite Bloody Mary mix recipes, Bloody Mary ingredients and the best vodka for each Bloody Mary (or other spirits) as well. Whip up a batch on New Year's Eve morning and you'll be ready for a delicious Bloody Mary hangover cure AND a fantastic start to your year.
Classic Bloody Mary
The classic version is always a winner if you're having guests over or just in a quick sipping mood. Leave the garnish and spices separate and everyone can add their own. This way, you or you and your guests can experiment with different tastes. Bloody Marys are a funny thing – uniquely personal to whomever is drinking them. So when you're having a lot of people over don't fight it – make everyone happy and your life easier with their own personal best by providing a Build Your Own Bloody Mary bar!
The Classic requires two key Bloody Mary ingredients as a starting point – great tomato juice and a smooth vodka. With these two basics covered, you can then lay out a Bloody Mary ingredients assembly line. Some of our favorites that we would include? Fresh lemon & lemon juice, sea salt, black pepper, fresh horseradish, Worcester sauce, and a few different spicy hot sauces.
No Bloody Mary ingredients list is complete, however, without the garnishes. This is where things can get really crazy or you can keep they classic and simple. Starting with the latter, we would set out celery sticks, spicy peppers, olives, pearled onions and pickles. If you feel like turning your simple Bloody Mary recipe into a meal then you can start adding things like asparagus, bacon, shrimp, oysters, chunks of cheese, salami, etc… Nowadays, the "Bloody Mary as a meal" options are endless if that's your thing!
The Best Vodka for this Bloody Mary:
Humboldt's Finest Vodka –  For the classic you want something clean and simple that also has a little complexity.  This vodka is the 6th ranked premium vodka in the whole state of California and we can attest to it's deliciousness.
For all of the spirits in your Bloody Mary recipes, especially when you are going through the trouble of making a homemade Bloody Mary mix like in the recipes coming up, make sure it's high enough quality vodka you actually would drink it straight. It really elevates the drink and makes it something special.
Green Mary 
So your green Bloody Mary or Green Mary obviously has a bit of a different base. While those with homemade Bloody Mary Mix recipes take a bit more work, trust us – it's worth it.  Great, unique homemade Bloody Mary mix is an important part of wining the best Bloody Mary game!
Green Mary's tend to have more of a tang and brightness. One of our favorite recipes uses more unique Bloody Mary ingredients, like tomatillos and yellow tomatoes to get this beautiful color.  The cumin and chili powder add some nice depth to the spice while horseradish still plays a starring role.
Best vodka for this Bloody Mary:
Driftless Glen Lemon Vodka– We love this combination…there's just something so beautiful about a touch of lemon with a Green Mary and this is perfect since you don't want to add extra acidity by using lemon itself!
Ghost of Mary
The Ghost of Mary is fantastic if you are a big fan of the drink but crave something lighter. Wonderful, especially if you learned from experience why so many people call a Bloody Mary a meal in a glass. This version won't fill you the way so many other Bloody Mary recipes do and it has a sophisticated air to it. To make this one at home, you need to clarify your juice.
We have two of the best Bloody Mary recipes to help you figure this one out. The first has the easy way to clarify your juice and the second features the slightly more involved but likely a bit more robust in flavor way to do this.   They'll both be incredible – we promise!  This cocktail lends itself to more simple garnishes, like olives and celery, a dash of Tabasco and shot of olive brine, but you can of course garnish to your heart's content and play around.
Best Vodka for this Bloody Mary:
Armont Vodka  – Smooth, clean and crisp this vodka won't overpower the light base.
Roasted Mary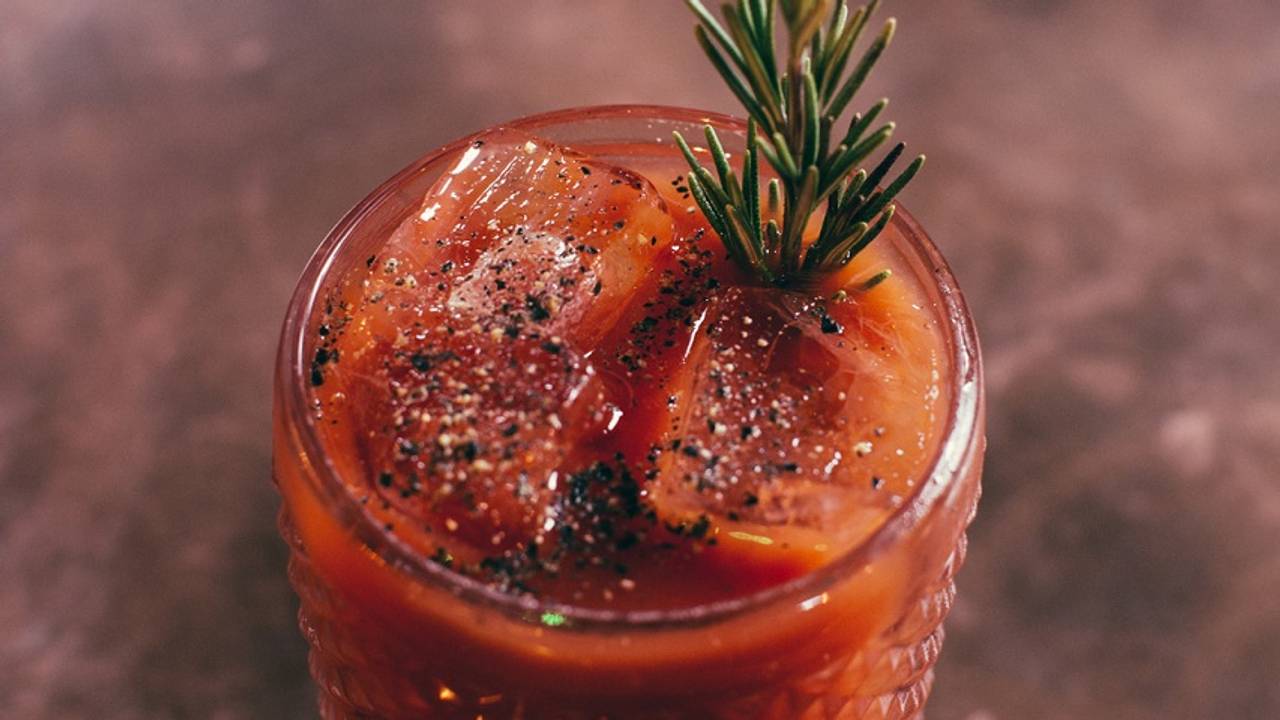 This is the richest Bloody Mary you will ever taste, well rounded and robust. Suzanne loves these! The Roasted Bloody Mary requires that you, you guessed it, roast your tomatoes along with a some other great Bloody Mary ingredients. You can try one of our favorite roasted Bloody Mary recipes here, but once you make it feel free to experiment the next time. It's pretty forgiving and roasting brings out such great flavors in different foods.
In terms of spices and garnishes, because of the richness of the base you can go either way. Some feel that rich tomato base is enough to keep the rest simple while others feel it's the perfect base to stand up to bacon and cheese and oysters. There's no wrong answer with this one!
Best Vodka for this Bloody Mary: 
Boldt Clear Whiskey – Wait, what? That's not a vodka! No, it's not. This is a fun Bloody Mary recipe to try out with whiskey or even tequila. The depth of flavors in this Bloody Mary really hold up to bolder flavored spirits. That being said, any of our previously recommended vodkas would work beautifully here
Interested in trying out some of these spirits we recommended but not ready to commit to a full bottle? Good news…we have our recommended monthly craft spirits clubs and cocktail recipes to go along with them. Then when you find spirits you love from the sampler, you can go back and buy full bottles too. That way next New Year's Day your bar will be fully stocked with favorites and you'll be ready to throw the best Bloody Mary hangover party ever.
Have a great 2022 Tippler Nation…may this year be your best one yet!